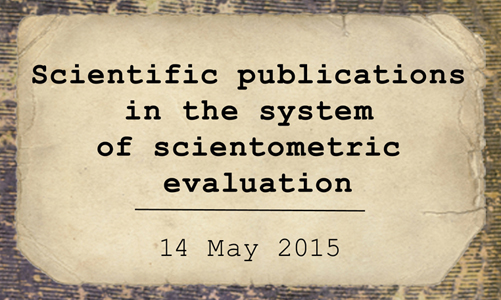 14th May 2015 at the Institute of Aviation was held a national conference "Scientific publications in science metrics evaluation system". We invite you to read a relation from this event under the following link.
During the conference the speakers were interviewed by the internet television of the Institute of Aviation – ILOTTV. The recording will be released soon at this address: https://www.youtube.com/ilottv.
________________________________________________________________
Organisers:
"Marketing of Scientific and Research Institutions"   scientific quarterly journal
Scientific Publishing Houses of the Institute of Aviation.
The Conference aims at presenting the role of scientific publications in the scientist and scientific organisation appraisal system. Its purpose is to introduce and familiarise participants with the main systems and indexation databases of scientific publications and the use that can be made of them in the course of building up scientific achievements. Moreover, it is also designed to function as a platform for discussion between authors and publishers in the scope of publishing cooperation.
The meeting is open to staff of publishing houses, scientific directors of research institutions, scientific secretaries, university publishing houses and authors of scientific articles and publications.
Institute of Aviation
al. Krakowska  110/114
02-256 Warsaw Poland
Conference Room "IKAR"
Preliminary Conference Programme:
8.30 – 9.00    – Registration
9.00 – 10.00  – prof. Jerzy Wilkin, Chairman of the Committee for Evaluating Scientific Journals , Polish Ministry of Science and Higher Education
10.00 – 11.00 – Wolfgang Klotz, Founder and Managing Director, Central and Eastern European Online Library C.E.E.O.L.
11.00 – 11.15 – Coffee break
11.15 – 12.15 – Lars Bjørnshauge, Founder and Managing Director, Directory of Open Access Journals
12.15 – 13.15 – dr Klementyna Karlińska-Batres, Thomson Reuters, Web of Science
13.15 – 13.45 – Lunch
13.45 – 14.45 – Tomasz Psonka, Research Solutions Director for CE Europe, Krzysztof Szymański, Customer Consultant in Research Management, Elsevier B.V., SCOPUS
14.45 – 15.45 – Leszek Stypułkowski, CEO, Index Copernicus
15.45 – 16.45 – Dorota Wojewoda, BazEkon Consortium, The Main Library of the Cracow University of Economics
Rules for Participation:
1.       Submission of an application containing:
·         Name and Surname:
·         Academic title
·         Position / function
·         Represented institution / independent researcher
to the following address: marketing@ilot.edu.pl
2.       Payment of net PLN 300 + VAT to the following bank account:
Instytut Lotnictwa
al. Krakowska 110/114
02-256 Warszawa
Bank Pekao S.A.
Bank account for payments in PLN:   90 1240 6247 1111 0000 4977 2760
Please include the following annotation on the bank order:
ISSUE (Name & Surname/Institution)
Contact:
Wojciech Łukowski
Marketing Director
Institute of Aviatiom
phone: +48 22 846 00 11 ext. 547
e-mail: marketing@ilot.edu.pl