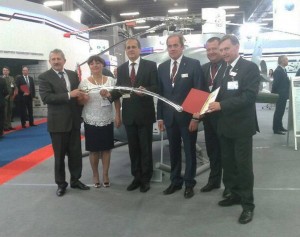 Institute of Aviation was awarded by Minister of National Defence for unmanned robot helicopter  ILX-27.
It's a reward for all constructors – the consortium of the Institute of Aviation – Warsaw, Air Force Institute of Technology – Warsaw, Military Aircraft 1 SA – Lodz. Polish President Bronislaw Komorowski holds Honorary Patronage of the International Defence Industry Exhibition. International Defence Industry Exhibition is a forum connecting potential customers and suppliers. It is a venue for presenting cutting-edge technologies and products in the field of armaments and military technology, space exploring the needs and expectations of customers, meetings and conversations, making new contacts and maintain existing ones for representatives from countries all over the world .  This event is particulary important for the Polish defense industry. For many years, supported by the Ministry of Defence, Economy, Foreign Affairs, Treasury, Science and Higher Education, the Armed Forces of the Republic of Poland and the Polish Chamber of Producers of National Defence.  Guests of the International Defence Industry are specialists in both domestic – senior representatives of the Polish Army, Police, Ministry of Defence, Ministry of Home Affairs, Government of the Republic of Poland – as well as foreign delegations. The fair is not only an exhibition, but also seminars and conferences. Both the cooperating institutions, as well as the exhibitors have the opportunity to conduct presentations, seminars and conferences.
Inherent in the Salon exhibition is static and dynamic Armed Forces organized by the Armed Forces Support Inspectorate in cooperation with the Army and the Military Police.