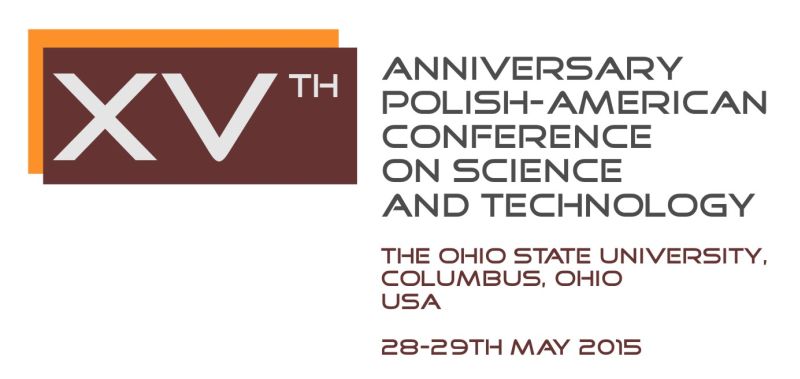 From 28th till 29th May 2015 at the Ohio State University in Columbus, Ohio, U.S. for the fifteenth time will be held Polish-American Conference on Science and Technology. The conference is one of the most recognizable thematic events in the world.
The purpose of the anniversary's conference is to exchange ideas and to strengthen cooperation between Polish and American partners in the area of innovation and high technology. The conference has the aim to identify the condition and direction of development of Polish-American relations in the field of science and technology, and the challenges and problems associated with their implementation. The anniversary is a time of memories, reflections, thoughts back to the people who had created the history of the conference. The meeting will be an excellent opportunity to summarize and make plans for the coming years.
The 15th Polish – American Conference will fall into themes:
Aerospace and Aviation
Energy and Environment
Defense and Security
Manufacturing and Material Technologies
ORGANIZING COMMITTEE
Chairman:
George Osypowicz, President of the Foundation for Innovations Exchange in Science and Technology
Members:
Witold Wiśniowski, General Director of the Institute of Aviation in Warsaw
Mike Benzakein, Director of Propulsion and Power Center, The Ohio State University
DATE OF THE CONFERENCE
28th-29th May 2015
VENUE:
HILTON COLUMBUS AT EASTON
3900 Chagrin Drive,
Columbus, Ohio, 43219, USA
TEL: +1-614-414-5000 FAX: +1-614-414-5100
PARTICIPATION AT THE CONFERENCE
Authors that want to present their papers at the Forum are kindly requested to submit their abstracts in the English language (max. 400 words) as soon as possible, however, no later than by 13th  March 2015.
Authors shall be notified of the acceptance of their abstract by 27th  March 2015.
The deadline for submissions of presentations which will be presented during the Conference
is 8th May 2015.
The deadline for submission of the full texts for publication is 8th June 2015.
Submission of a paper implies the Author's consent for it to be published in "The Journal of Polish – American Science and Technology".
Speeches and printed texts are accepted in English only.
Participation in the Conference is free of charge.
Participants  book and cover the costs of accommodation and travel on their own.
Bulletin to download here.
CONTACT:
George Osypowicz
Chairman of the Organizing Committee
Mobile: +48 602 727 009
Fax: +48 22 627 47 12
e-mail: g.osypowicz@donau.com.pl
Tomasz Osypowicz
The Institute of Aviation
al. Krakowska 110/114
02-256 Warsaw
tel.: +48 22 846 00 11 ext. 815
Mobile: +48 609 901 005
e-mail: tomasz.osypowicz@ilot.edu.pl
Aneta Olejniczak
The Institute of Aviation
al. Krakowska 110/114
02-256 Warsaw
tel.: +48 22 846 00 11 ext. 551
e-mail: aneta.olejniczak@ilot.edu.pl