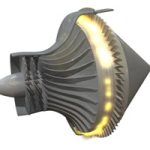 The aim of the project is to create a new turbine jet engine, equipped with a detonation combustion chamber. Using a detonation combustion chamber will allow a substantial increase in the engine efficiency, reducing toxic components of exhaust emissions and greenhouse gases, simplifying the design, reducing the engine weight and production costs. The increase in efficiency is estimated at over 10%.
Operational Programme Innovative Economy
Priority1 Research and development of new technologies
Measure 1.3 Supporting R & D projects carried out by research establishments
Measure 1.3.1 Development projects
Project Manager: Professor Dr. hab. Eng. Piotr Wolański
In addition, due to the increase in efficiency, fuel consumption will go down and so will the emissions of greenhouse gases such as CO2. The detonation combustion in the engine will also allow using methane or hydrogen as a fuel, which would greatly reduce CO2 emissions in the case of methane, and completely eliminate greenhouse gas emissions in the case of hydrogen. The preliminary investigations indicate that the use of methane or hydrogen as a fuel yields good results.
The project aims to build a model of a turbine engine with an experimental combustion chamber that uses the spinning effect of detonation, which is already patented in Poland.
The concept envisages the construction of the stand ensuring the optimal airflow. The stand will power the prototype of the turbine engine equipped with the chamber. To power the engine, gas and liquid fuels will be used. The main problems to be faced will consist in changing the scale of micro-combustion to the macro level in the spinning detonation chamber and extending the chamber working time from milliseconds to several minutes. Simultaneously, researchers will be working on the problem of cooling the chamber walls during the detonation as well as on the methods of identifying and measuring the combustion products. The entire project is financed under the Operational Programme Innovative Economy. The project manager is Professor Dr hab. Eng. Piotr Wolański.