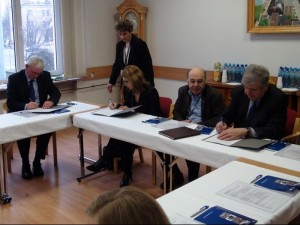 The new course of study at the Gdansk University of Technology on the order of EDC Poland
February 1, 2013 year in Engineering Design Center (EDC) in Warsaw was held a meeting of representatives of the Gdansk University of Technology, General Electric Company Poland (GECP) and the Institute of Aviation (ilot), strategic partners forming the EDC.
The purpose of the meeting was the signing of a letter of intent to cooperate between the EDC and the Gdańsk University of Technology, department of Ocean Engineering and Ship Technology, the launch of a new Master's degree program with a specialization in "Underwater Technology".
The document has been signed by: Managing Director of General Electric Company, Poland Magdalena Nizik, Director of the Institute of Aviation Ph.D. Eng. Witold Wiśniowski and representing the Gdańsk University of Technology Professor Eng. Janusz Kozak.
Back in February of this year 20 to 30 the students will begin studying at that unique specialty in Poland.  GECP outside research on technologies for oil and gas development also works in the field of aviation and energy.
More about the new course of study can be read here
You can see pictures from the meeting here