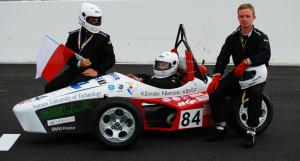 Between 12th and 15th of July 2012 on the Silverstone F1 circuit (UK) an international Formula Student competition took place. This contest, organized by IMechE (Institution of Mechanical Engineers) gathers every year over a hundred of student teams from the best technical universities from Europe and worldwide. Teams design and build from a basis race cars powered by motorcycle engines up to 610 cm3.
Our country was represented this year on the famous track by the whiteEagle Racing team from Automotive and Construction Machinery Faculty at Warsaw University of Technology, financially supported by the Institute of Aviation. Students built a car on a steel space frame, powered by a BMW 450 cm3 engine and covered with a light-weight, composite body. A support from CAD, FEM and dynamic simulation systems for the design process brought an effect of decreasing weight down to 242 kg and achieving high performance and drivability of the vehicle, fulfilling numerous and difficult Formula Student  rules at the time.
This year's race car is already a second one in the history of the Faculty. However, its design (lighter by over 120 kg comparing to the predecessor) is a fabulous basis for developing the next generations. The points gained this year to a General Formula Student Classification entrenches a position of Warsaw University of Technology as a very first (together with Wrocław University of Technology) Polish Formula Student competitor ever. Meanwhile, the work of Polish student supports the development of the domestic engineering study and motorsports.
WhiteEagle on the Silverstone F1 circuit gallery.