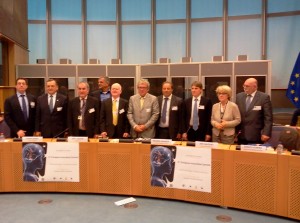 Krzysztof Piwek from the Institute of Aviation in Warsaw tooke part in the 4th European Innovation Summit, which held 9 – 10 October 2012 at the European Parliament in Brussels.
The summit featured an opening reception with Innovation Commissioner Geoghegan-Quinn, several thematic sessions throughout two days, breakfasts, lunches and dinner debates, as well as an exhibition in one of the most visible locations of the European Parliament.
Under the motto "Building bridges – Creating Synergies", this year's debates related to policies relevant for innovation and that are currently under review by the European Parliament, including Horizon2020, Cohesion Policy, COSME and the MFF.
In the session "Drivers and Enablers of Innovation" Krzysztof Piwek gave a lecture titled "Opportunities to Develop small transport aircraft to enable regional mobility and innovation". In the summit also took part Deputy Director of the Institute of Aviation – Scientific Director Mr Cezary Galiński.