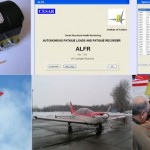 During the realization of the CESAR Project (Cost-Effective Small AiRcraft) the WP2.4 Task – "Smart Structural Health Monitoring" has been finished.
The realization of this task consisted of:
the theoretical basis of the Idea of Continuous Fatigue Estimation of aircraft structures,
the identification of critical points of aircraft structure,
the elaboration and laboratory tests of Autonomous Loads and Fatigue Recorder (ALFR),
the ALFR recorder flight tests on the RC aerobatic model Jak 52,
the final flight tests on the PZL 126 Iskierka aircraft – in co-operation with PZL – Mielec A Sikorsky Aircraft Company,
two patent applications in preparation.
The Institute of Aviation was the SubTask leader of this task.
The extensive report of the WP2.4 Task of the CESAR Project has been prepared:
M. Debski, J. Kazmierski, D. Debski, A. Szot: Fatigue Analysis Tool – CESAR-IoA-D2.4.2-1/2007 , and publication:
M. Debski, J. Kazmierski, D. Debski: Idea of continuous loads and fatigue estimation of aircraft structures -autonomous loads and fatigue recorder – Czech Aerospace Proceedings 3/2009 ( http://www.vzlu.cz/cz/publikace/czech-aerospace-proceedings/rocnik-2009).
Main contractors:
Ph. D. Eng. Marek Debski – idea and algorithms of signal analysis,
Ph. D. Eng. Jan Kazmierski – software and hardware of ALFR recorders,
Ph. D. Eng. Daniel Debski (Warsaw University of Technology) – algorithms of signal analysis,
M.Sc. Edward Babiasz – casing of recorders,
Eng. Arkadiusz Kaczorowski – assembly,
M.Sc. Wlodzimierz Urbaniak – flight tests on RC aerobatic model,
M.Sc. Wieslaw Cena (PZL – Mielec) test pilot – flight tests on PZL 126 Iskierka aircraft.
Contact: Marek Debski, e-mail: dedal@ilot.edu.pl, fax: +48 22 846 44 32