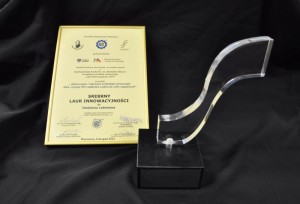 The Institute of Aviation was awarded the Silver Laurel of Innovation at the Nationwide Contest named after Stanisław Staszic for the best innovative products "2014 Laurel of Innovation". The award was granted to the project titled "Development and Implementation of the Ultra-Clean Production Technology using 98% Hydrogen Peroxide for Propelling Purposes". The Contest was organised by the Polish Federation of Engineering Associations NOT.
The production technology of 98% concentration hydrogen peroxide of HTP class devised by the Institute of Aviation is an attractive alternative for the presently used fuels (e.g. hydrazine), particularly in the case of propulsion of relatively small satellites.
The results of the Contest were announced on 26 November 2014 at an Gala ceremony held in the Ballroom of WDT NOT in Warsaw and were preceded by the 2nd Conference titled "Innovations as a Prerequisite for the Economic Development of Poland".  The Conference and Gala were accompanied by an exhibition concerning innovation.
The Contest has attracted high interest on the part of the state administration, Polish communities abroad, foreign companies interested in the Polish market and the media.
The Contest was organised under the auspices of: The Ministry of Economy and the Ministry of Science and Higher Education. Parliamentary patronage of the Sejm of the Republic of Poland, represented by the Commission for Innovation and Advanced Technologies. The Contest's Chapter is chaired by prominent personalities from Poland and abroad representing various fields of technology and the economy.
More information about 98% hydrogen peroxide HTP Class can be found in the scientific article of Grzegorz Rarata and Paweł Surmacz (abstract in English).