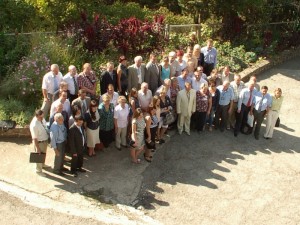 24-28 September 2012 in Ukraine in Rybacze, in the old Pavel Sukhoi Design center held a conference on chemmotology, including biofuels in aviation. Researchers from the Institute of Aviation Zbigniew Pągowski and Krzysztof Szafran, took part in the meeting. The conference was organized by the National University of Aviation of Ukraine and the Ministry of Education and Science, Youth and Sport of Ukraine.
Chemmotology as a relatively young field of science placed between technology and production of fuels and lubricants, and operation of the machines. Production of the next generation of biofuels and their improvement is an important issue, which was discussed in several presentations. 125 scientists from Ukraine, Polish, Russia, Austria and China sent papers for the conference.
Representatives of the Institute of Aviation in the plenary session presented papers on research into biofuels in aviation containing 85% ethanol (AGE 85, CropPower 85, BioE85) and the practical application of biofuels BioE85 Polish prototype hovercraft in PRP 600M/10 Aviation Institute, the vehicle which combines two ways of transport.
The hosts of the conference hope, that on the next conference will be able to see the object of research of the Institute of Aviation in nature.