On May 22th, representatives of the Remote Sensing Division of the Institute of Aviation (Center for Space Technologies) took part in the Night of Robots – an event organized by the Industrial Research Institute for Automation and Measurements in Warsaw. Many space attractions were awaiting for all participants!
Mini-aircraft models powered by energy from photovoltaic panels triggered a lot of excitement among the youngest participants of the event. The charging car and especially the remote control for driving it, achieved a great popularity and were in great demand. The hardest part was answering questions where this solar energy "hides". Children very resolutely tried to construct answers to the questions of their peers and in interesting way to stay ahead of the answers of our specialists on energy acquired in an alternative way. Many of them showed interest in the subject which was probably based on the experience of their parents.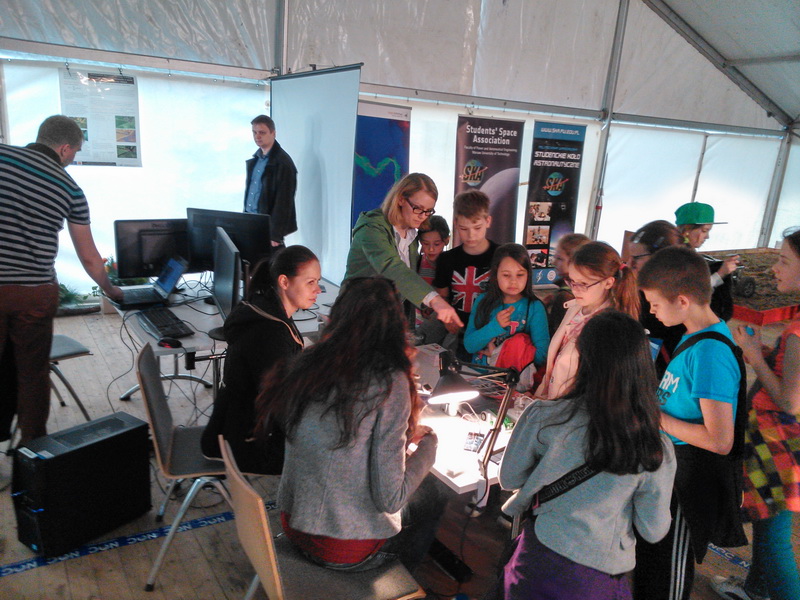 We congratulate both the youngest and older visitors of our stand on good investment of time and conversations that went on late into the night. See you at the "Sixth Night of the Institute of Aviation" which this year will take place on October 16th! It is worth to reserve your time for thrilling encounters with science and technology, not just air-related.
And to all those who listened with such interest and asked many questions on research issues and our mutual concern about the health of oak trees – we now invite you to an international conference: "The phenomena of dying oaks in Europe – the origin, course and the possibility of reducing the harm" which will be held on July 6-7th. in Warsaw and Sękocin (more information).