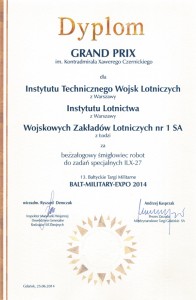 During the 13th BALT-MILITARY-EXPO in Gdańsk the unmanned helicopter ILX-27 was awarded with the "Rear Admiral Xawery Czernicki" Grand Prix.
The project of ILX-27 is developed jointly in a consortium composed of the Institute of Aviation, Air Force Institute of Technology and Military Aviation Works no 1.
At the fair was presented the version of maritime helicopter equipped with a system to detect underwater objects developed in Gdańsk University of Technology.