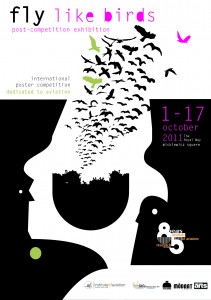 From 1 – 17 October 2011 on the Royal Way (Mickiewicz sqare) in Warsaw art enthusiasts  will be able to view the 39 most interesting works submitted to the international poster competition dedicated to aviation "fly like birds." The exhibition is part of the celebrations of 85th anniversary of the Aviation Institute in Warsaw.
International poster contest "fly like birds," ended. In total of 270 projects of posters were submitted from Polish, European and South America.
"The exhibition will be present the 39 best of 270 posters submitted. Interdisciplinarity, selection techniques of works authors made that the contents had the world level. Not only because of the fact that the works were received from around the world from South America, through western Europe, Poland to Belarus and Turkey. Selected this works was extremely difficult for us, because the overall level of competition entries was extremely high. This will be the absolute crème de la crème "- said Radosław Suchożebrski, chairman of the jury.
Selected works will be exhibited in large format. Eye-catching posters highlighted in specially for this occasion designed street cubes will be open day and night. The exhibition will run from 1 to 17 October 2011 at the Royal Way (Mickiewicz Square). The exhibition is scheduled for October 1 at 17:00 hour. The opening will be accompanied by a spectacular performance – a surprise.
Competition "fly like birds", lasted from 16 March to 31 July 2011.
Jury:
Esau González Carpio – Mexico
Chambres Pierre – France
Christoforides Marios – Cyprus
Enric Macià – Spain
Robbin Milne – USA
Based Pavel – Czech Republic
Bora marry – Turkey
Ursula Schmidt Krause – Germany
Radoslaw Suchożebrski – Poland
Voulgaris Panagiotis – Greece