Engineers from Łukasiewicz Research Network – Institute of Aviation took part in unique worldwide tests of Unmanned Aircraft System Traffic Management (UTM) in urban area, which took place in Reno, Nevada, USA. Łukasiewicz Research Network – Institute of Aviation was the only foreign institution invited to participate in American manoeuvres.
The test report was published on the American television CNBC. The video shows a drone developed in the Łukasiewicz Research Network  – Institute of Aviation, which has passed all stages of multi-level integration required to take part in TCL 4 manoeuvres:
The coordinator of the whole project was NASA's Ames Research Center in cooperation with Nevada Institute of Autonomous Systems (NIAS) and Federal Aviation Administration (FAA). The tests were attended by academic and scientific institutions and significant global companies operating on the drone market.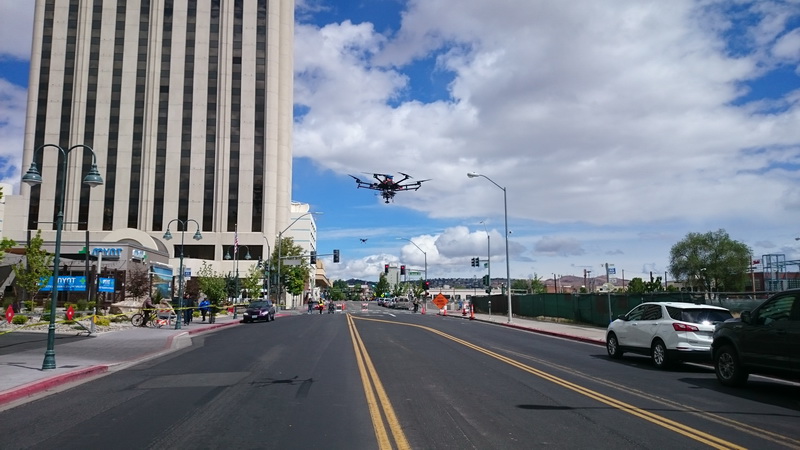 NASA's activities this year entered TCL level 4, which means that for the first time the tests were conducted out of sight of the operators in a controlled urban area. For the time of the manoeuvres, this space was excluded from road and pedestrian traffic.
The flights were carried out by several UAVs simultaneously on routes between tall buildings. It was crucial for these tests to focus on technologies that will ensure the safety of this type of flight in urban conditions in the future. These include: integrated detect-and-avoid capabilities, vehicle-to-vehicle communication and collision avoidance, automated safe landing technologies and UTM services that support UAS operations.
By the end of 2019, the prototype UTM system together with recommendations and comments obtained from the tests will be submitted to the FAA for further recognition. Further tests are planned with the participation of all the existing partners of the project.
In June 2019, representatives of the Łukasiewicz Research Network – Institute of Aviation will take part in Nevada Global – Polish Business & Innovation Week. During the visit, on June 15th, in the city of Reno (NV), NASA, NIAS and the Łukasiewicz Research Network – Institute of Aviation will hold joint manoeuvres. The event will be attended by the President of the Republic of Poland, Mr. Andrzej Duda.