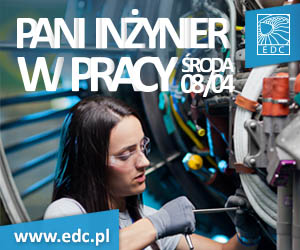 Are you a woman-engineer? Are you looking for a paid internship? Or would you like to come back to the engineering profession after maternity leave?
If your answer is yes, join unique event "Inżynierka w pracy" organized by women to women. It will take place on April 8th at EDC. The concept of the meeting is to support all female engineers who wish to learn, progress and drive their own professional path in technological or business area.
Apart from training and common discussions there will be also an opportunity to visit EDC laboratories such as Material Laboratory, High Pressure Laboratory and Engine Training Centre.
We hope our meeting will help all women to connect and inspire each other in their professional life.
See the agenda below:
2:30 – 2:40 pm – Welcome to EDC
2:40 – 3:20 pm –  EDC as an employer
3:20 – 4:20 pm –  How to write a professional CV – workshop with HR experts
4:30 – 5:30 pm – Lab tours: Material Lab, High Pressure Lab and Engine Training Centre
5:30 – 5:45 pm – Conclusion. Meeting with managers and fellow women-engineers
To apply send an e-mail to: contact@edc.pl
Subject: Pani inżynier w pracy
E-mail content:
Name of the university you attend/graduated from
Name of your faculty/specialization
Please note that the entrance is free.
Pani inżynier w pracy – poster
Venue:
IKAR Hall
Institute of Aviation
Al. Krakowska 110/114