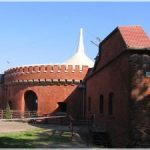 27th of May 2011, because of the 85th Jubilee of the Institute of Aviation, Gala and Great Jubilee Ball will be organized by the Institute of Aviation, for present and former employees and invited guests. The place of the event is Fort Legionów near Zakroczymska street 12 in Warsaw.
Representatives of the public sovereigns will award people, who are greatly honored for the Institute of Aviation, with orders and decorations.
Great Jubilee Ball will start after the official part. During the ball, guests will see performances of: Natalia Kukulska and her band, Spanish vocal group El Trio Chikiboom, dj trio The Bumelants, and dancers of the faculty of choreography and ballet (their appearance will be accompanied live by the string quartet). After all the performances, guests will be entertained by the DJ, and the delicacies of the Mediterranean and Polish cuisines will let keeping the good form until the very end.