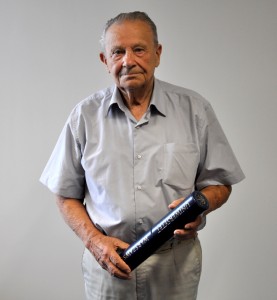 In recognition of the special contribution, Senate of the University of Warsaw awarded Dr Eng Jerzy Zięborak with Medal of University of Warsaw.
Mr Zięborak was awarded for his outstanding contributions to the university and the entire academic community.  Previously, among  the awarded with the medal were: Pope John Paul II, a former Polish Prime Minister Tadeusz Mazowiecki and a philosopher Leszek Kołakowski.
The medal is inscribed with Latin maxims: (PALM) Qui Meruit Ferat (Let the one who deserves it bear the palm of victory) and Doctrine Multiplex Veritas Una (Lots of domains, one truth).
Jerzy Zięborak is a doctor of technical sciences at the University of Wrocław. He was a soldier of the Home Army and took part in Warsaw Uprising. He served in the VIIII "Krybar" Group  that fought in Warsaw in the northern part of Powiśle district and in the city center.
During the ceremony Jerzy Zięborak was given a publication of the University of Warsaw written by Robert Gawkowski:  "Krybar. University in the shade of insurgent fights". The book was released as an album and it documented the memories of the insurgents from Krybar. The publication is illustrated with unique photographs from Warsaw Uprising.
Jerzy Zięborak is a retired test pilot. He worked for many years at the Institute of Aviation.
In the black and white photo: Jerzy Zięborak in an insurgent helmet.