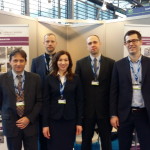 On 8-10 March 2016 the representatives of the Center for Composite Technology participated in the world's largest trade fair JEC Composite World Composites Show & Conferences that is held every year in Paris.
The Institute of Aviation was among the 1,259 exhibitors from over 100 countries which presented the research capabilities of composites. The stand of the Composites Testing Laboratory was met with interest from manufacturers of composite structures and representatives of scientific research. The scope of the performed composites tests and the potential participation in projects of scientific research were widely discussed at the fair.
At the fair were visible current trends in the field of composite materials i.e. automation of the process for producing composite structures and the application of technology of thermoplastic composites. These trends are consistent with the direction of development and the investments that are being carried out at the CCT.