Resistance to negative factors related to climate change on the Earth of mixed Central Europe forest stands is higher than oak monocultures – according to research conducted at the Remote Sensing Division of the Institute of Aviation, published by "Forests" in a special issue devoted to the increasing intensity of drought "Remotely Sensing of Drought-Induced Forest Change and Recovery ".
Research conducted as part of the HESOFF project (Life 11 ENV / PL / 000459) for forest stands on Krotoszyńska Plate in Wielkopolska proved that mixed stands with English oak as the dominant species are more resistant to drought than oak monocultures. In cases where the stand was dominated by English oak (Quercusrobur L.) and there were about 20% admixture of red oak (Quercusrubra L.) or Scots pine (Pinussylvestris L.), the deterioration of vegetation indices during short-term drought significantly decreased. In addition, it was also observed that during the occurrence of drought, mutual complementarity of stand species can be dominated by competitors, especially for rusty-brown soils for which the deterioration of remote sensing monocultures of pine monocultures was lower than for forests of this type with an admixture of red oak.
During the research vegetative indices and orthophotomaps were used. Those two products were based on OLI (Landsat – 8) satellite images and aerial photographs taken using the QUERCUS.6 Multisensor Platform built at the Institute of Aviation. It was shown that in the study of monoculture reactions to drought for oaks, the MSAVI indicator is most useful and for the pine tree – NDMI indicator. The GNDVI (Green Normalized Difference Vegetation Index) parameter was the most useful for measuring the effect of species diversity of stands on their response to drought.
The research was financed by the European Commission and the National Fund for Environmental Protection and Water Management under the LIFE + financial instrument (grant No. Life 11 ENV / PL / 000459).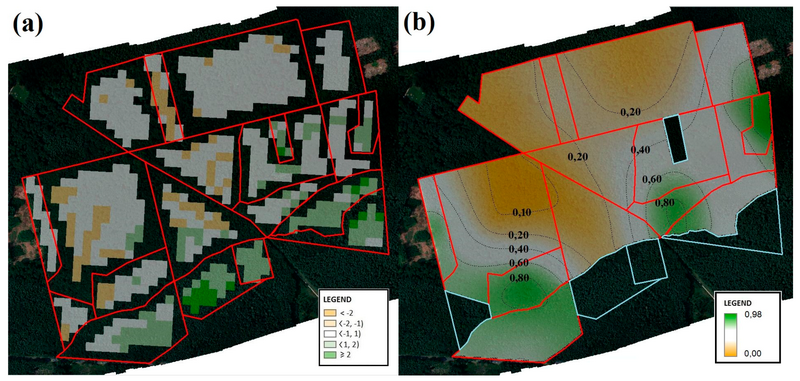 Comparison of species diversity of stands and their response to drought: a) change in the GNDVI vegetation index during drought based on Landsat-8 satellite images, b) index of species diversity of Shannon – Wiener stands calculated on the basis of aerial photographs taken by the QUERCUS.6 Multisensor Platform. The comparison of both distributions confirms the higher resistance to drought of stands different from those with low diversity.
Article: Kotlarz, J.; Nasiłowska, S.A.; Rotchimmel, K.; Kubiak, K.; Kacprzak, M. Species Diversity of Oak Stands and Its Significance for Drought Resistance. Forests 2018, 9, 126. http://www.mdpi.com/1999-4907/9/3/126/htm