On May 8th, 2018 the Institute of Aviation held a meeting with a helicopter pilot Marcin Szamborski and a retired helicopter pilot, Ryszard Witkowski. The event was organized by the Warsaw Aviation Seniors Club.
The meeting has started with the presentation of the FAI Gold Rotorcraft Medal by Ryszard Witkowski, who is the fifteenth person in the world awarded this prize.
The FAI Gold Rotorcraft Medal is awarded in recognition of the promotion of rotorcraft sport. Ryszard Witkowski was a Polish, long-time delegate to the FAI Rotorcraft Commission and an engineer at the Institute of Aviation, where he conducted helicopters test flights. The laureate of the award highlighted in his speech that the diploma and the FAI medal awarded to him will join his rich collection of prizes, distinctions and aviation memorabilia.
The main part of the meeting started a lecture by Marcin Szamborski who spoke about the round-the-world flight in the northern hemisphere by Bell 407 that was organized in the spring of 2017.
– The idea of a round-the-world flight was born in my head much earlier than we started to implement the plan. It did not seem very crazy, because nowadays even liners can beat records – but a helicopter is something else. On my journey I took a friend of mine, a Russian, Maxim Sotnikov. His wife, Natalia, also flew with us. In our way from London to Alaska we were also accompanied by Mikhail Mowszin – said Marcin Szamborski.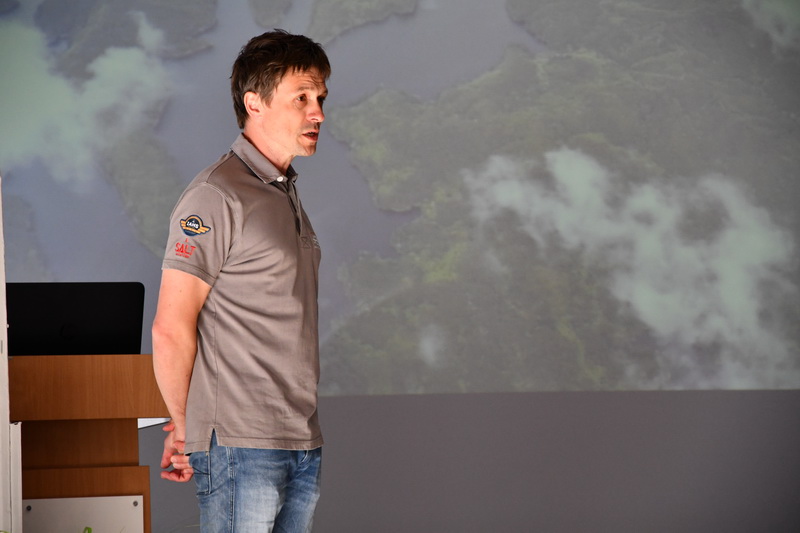 Maxim Sotnikov is a world champion from Zielona Góra, where the Helicopter World Championships took place in 2015.
– The flight lasted 58 days. We traveled a total of 39,000 kilometers. We started on April 18, 2017. The entire route was planned and analyzed earlier. We were the seventeenth crew who went round the globe with a helicopter – he continued.
During the lecture, the guests also watched a film and saw photos from the expedition.
The meeting ended with organizational matters regarding Warsaw Aviation Seniors Club.
The FAI website: https://www.fai.org/awards.