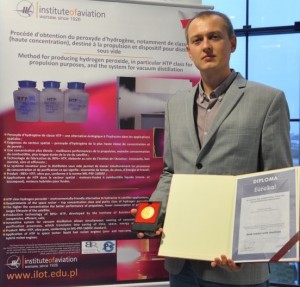 The invention presented by the Institute of Aviation titled "The method of obtaining hydrogen peroxide especially HTP class for application in drives and system for vacuum distillation" at the World Exhibition on Inventions, Research and New Technologies held on 13–15 November 2014 in Brussels was awarded the Gold Medal with mention.
The presentation of the invention was performed by Mr Paweł Surmacz, co-creator of the invention.
The invention is currently being implemented. A production trial run is also pending.
Thanks to the solutions implemented in the process for obtaining 98%+ HTP, the product as well as the technology for obtaining it can be applied in the space industry as a propellant for launchers and artificial satellites.