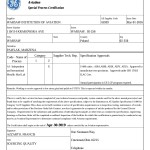 On March 1st, 2016, after successful verification, General Electric Aviation has extended the validity of the S-400 Certificate for MSRC, the Material Testing Subdivision.
This certificate concerns the qualification of mechanical tests and test specimens preparation, and includes: tensile tests at room temperature (AI0A) and elevated temperature (AI0B), creep tests (AIXA), low cycle fatigue tests (AI0Y) and preparation of class B specimens (AI0X).
The S-400 certificate, which the MSRC has held since 2007, is accorded in acknowledgment of performing high quality tests and services in compliance with customer expectations. The present certificate is valid until April 30th, 2019.