The third edition of the Congress 590 – one of the most important economic events in Poland took place on November 15-16, 2018 in Jasionka near Rzeszów. The event was a venue for discussions on the improvement of the Polish economy where representatives of business, science, politics and legislation marked their presence in many meetings, lectures and discussion panels. Among the guests of the Congress was the director of the Institute of Aviation – Paweł Stężycki, who participated in a discussion panel devoted to the design and production of aircraft in Poland.
"Is Poland ready to design and construct planes of its own?" – the guests of the discussion panel tried to answer this question. Among the invited panelists were: Marshal of the Podkarpackie Voivodship – Władysław Ortyl, Minister of Investment and Development – Jerzy Kwieciński, President of Polish Armament Group – Witold Słowik, Board Member of PZL Mielec – Artur Wojtas and Director of the Institute of Aviation – Paweł Stężycki.
In the opinion of the debate participants, plans for the construction of a new Polish plane require not only using the current potential and engineering thought, but also foreign cooperation.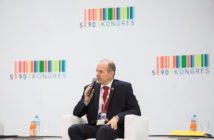 According to the director of the Institute of Aviation, although "currently in Poland there is no construction office ready to design an aircraft that would be competitive on the global market, there are all competences in Poland for such an office to be quickly restored".
The Institute of Aviation has already taken the first steps to rebuild aircraft design capabilities. Together with the Polish Armaments Group and the Industrial Development Agency, the Institute is working on a new Polish machine. This year all three institutions signed  a letter of intent regarding the research and development of the ILX-34 turboprop aircraft.
"This project must be approached analytically and not enthusiastically. Because if we are a group of enthusiasts who want to build an airplane, design it, maybe create a prototype, we must remember that these are expensive projects carried out with taxpayers' money"- summed up Paweł Stężycki.
Source:
https://www.podkarpackie.pl/index.php/gospodarka-i-transport/6493-stawiamy-na-nowoczesne-technologie-w-lotnictwie
Photo credit: Michał Mielniczuk