The Institute of Aviation in Warsaw is a co-organisator of the meeting "Technology Roadmap for Sma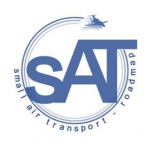 ll Aircraft Transportation Mode", which will be held July 20, 2012 in Brussels. At the conference will take part representants of the members of The SAT-Rdmp Consortium. 
Objective of the Workshop:
Discuss with representatives of the SAT Community, EC, Regulators, Operators about the Technology Roadmap implementing the Vision in the European practise.
The following elements will be discussed:
Main conclusions on the Common Vision for Small Aircraft Transport (SAT) mode for inter-regional mobility responding to Flight Path 2050 challenges (90% d2d 4 h),
Demand for SAT mode, business model simulation and possible scenarios,
Assessment of existing and missing capabilities and industry master plan,
Technology Roadmap for SAT mode,
EC support mechanisms in Horizon 2020, structure and regional funds,
Small Aircraft Big Challenge – The need for RTD and demonstration – as input to Clean Sky 2 and Horizon 2020,
Cooperating within the sector: a network, EGAMA, how to involve others.
Mr Krzysztof Piwek from the Institute of Aviation will deliver a welcome speach.