On March 26-29, 2019, the 22nd Moscow International Salon of Inventions and Innovative Technologies "ARCHIMEDES 2019" took place. The Archimedes exhibition in Moscow is one of the largest and most famous world events of this type.
Over the years, the organizers have developed a great reputation and brand, which is why the Archimedes is visited by specialists from various industries around the world. This year's edition of the showroom gathered over 500 inventions from 22 countries around the world.
The Moscow exhibition gathered inventors from Russia, Germany, Portugal, Italy, Cyprus, Macedonia, Slovenia, Austria, Serbia, Romania, the Czech Republic, Poland, Indonesia, South Korea, Thailand, Taiwan, India, China, Macau, Saudi Arabia and Iraq.
The organizer of the collective stand of Polish inventors was Agencja Promocyjna INVENTOR – the sole representative for Poland at the Moscow exhibition.
Seven innovative solutions developed by research institutes and universities have been presented at the Polish stand. In the 42 themed categories, presented innovations won six golden medals and one silver.
The silver medal was awarded to the Institute of Aviation for the ILR-33 Amber rocket as a system of inventions and an innovative platform for experimental research in conditions of reduced gravity.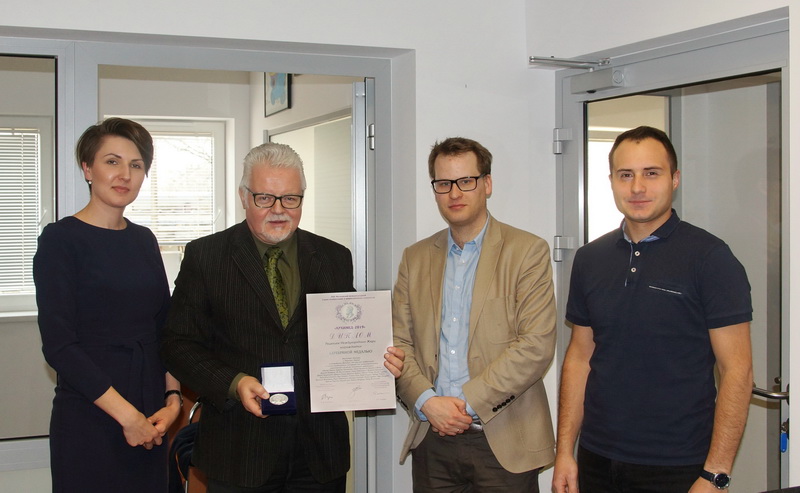 The awarded team: Michał Pakosz, Eng., Bartosz Bartkowiak, MSc. Eng., Adam Okniński, PhD Eng., Kamil Sobczak, MSc. Eng., Damian Kaniewski, Eng., Jan Matyszewski, Eng., Paweł Nowakowski, Eng., Błażej Marciniak, Eng., Dawid Cieśliński, MSc. Eng., Damian Rysak, MSc. Eng., Dominik Kublik, PhD Eng., Tobiasz Mayer, Eng., Maciej Skórski, Eng., Anna Kasztankiewicz, MSc. Eng., Ewa Majewska, MSc. Eng., Tomasz Noga, MSc. Eng., Jakub Rachucki, MSc. Eng., Arthur Pazik, Eng., Witold Wąsowski, Janusz Pieniążek, Jaromir Smętek, MSc. Eng., Paweł Surmacz, PhD Eng., Jacek Mazurek, MSc. Eng., Grzegorz Rarata, PhD, Zbigniew Gut, PhD Eng., Wojciech Florczuk, MSc. Eng., Professor Piotr Wolański.
The project was presented as part of the award for Adam Okniński – the winner in the "Innovator of Mazovia" competition in the Young Innovative Scientist category organized by the Office of the Marshal of the Masovian Voivodeship. The prize was sponsored by Agencja Promocyjna Inventor.
Congratulations to  all the authors of the awarded inventions – we wish further successes and implementations!
The full list of Polish awarded institutions is available here.
See the diploma.
Source: Agencja Promocyjna INVENTOR sp. z o.o.