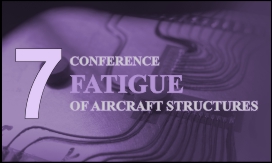 On 16-17th January 2014 took place the "7th Conference Fatique of Aircraft Structures" organized by Materials & Structures Research Center.
Institutions represented at the conference were: Air Force Institute of Technology, PZL Mielec Company, Warsaw University of Technology, Casp System and Institute of Aviation.
The conference was entirely devoted to aeronautical structural fatigue issues and covered all aspects of fatigue of materials, components, vehicles and structures.
Covered topis:
–  Full-scale fatigue testing of aircraft and aircraft structural components,
–  Fatigue of material and structures,
– Advanced materials and innovative structural concepts,
– Damage tolerant design of aircraft structure,
– Life extension and management of ageing fleets,
– Structural health monitoring and loads,
– Fatigue crack growth and life prediction methods,
– NDT inspections,
– Airworthiness considerations.
After presentations, attendees of the conference had the opportunity to get acquainted with the Materials & Structures Research Center offer and could visit its laboratories.
About the conference here.