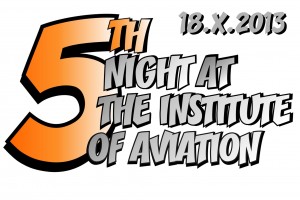 This is the biggest event in Warsaw presenting research for aviation and space, businesses and institutions working in these sectors. This is opportunity to ask questions specialists in various fields, as well as touch, photograph, test the high-tech aerospace. It's a way for a nice, unusual evening!
This  night will be one and only opportunity to visit the Institute of Aviation in Warsaw, which is not available to view on a daily basis !
From 17.00 to 23.00  everyone can find something interesting and entertaining . Visitors will have the unique opportunity to not only see up close the real planes, helicopter, glider, and hovercrafts, but also be able to get into  their cabins! Extremely wide range of unmanned flying vehicles will be shown from small platforms  through large observation aircraft to the drones, full-sized helicopters. Everyone will be able to feel like a pilot sitting at the controls of simulators, which this year will be extraordinary. Guests of the Institute will be able to see, inter alia, special screenings helicopter models, beautifully lit fountain, enjoy an exceptionally close Referring huge passenger jets. Mars rovers, satellites, spacecraft instruments from the exhibition of models of rockets and telescopes will be a real treat for all dreamers. As every year, specially prepared for the occasion, illumination and music mixed live by a professional DJ.
For all friends of the Institute of Aviation! There will be a lot of  surprises, contests, games, and unique attractions!
We look forward to seeing you!